Did you recently find your images in Google Search results? This guide will explain why they are appearing and how to get them removed.
Delete profile
The profile must be deleted before a request can be submitted to Google. 
Image CDN Link's
In order to assist with your request, we will require the CDN links for the images you need to be removed. Below are the steps to obtain the links. 
Step 1
Go to the Google Search Results

Step 2
Click on the Image that is still appearing on Myspace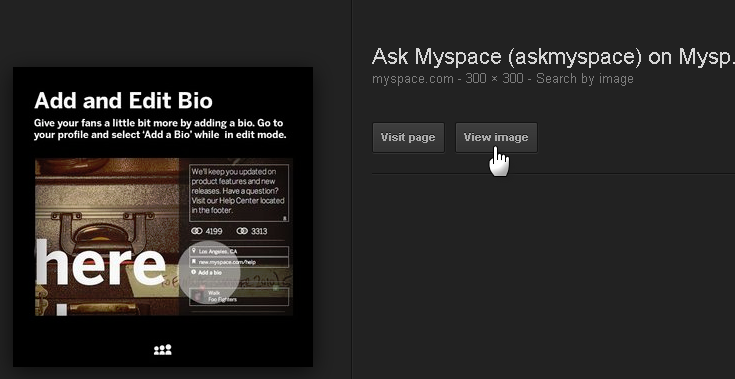 Step 3
There should be two options, Visit page and View Image. Select View Image to see if the image is still active on Myspace. If the image is still active, copy the URL. The URL should look similar to the one in the image below:
If you select View Image and you are directed to a 404 error page, you can submit your request to Google to have the images removed from their search results. Go to https://www.google.com/webmasters/tools/removals to submit your request.
Select Visit page to see if the profile is still active.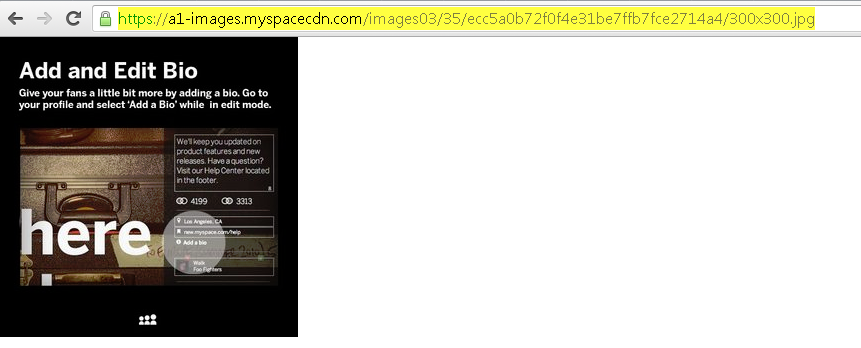 *if you do not see the option, right-click the photo and select "Copy Image Address". This will save the CDN link we need.  
Step 4
Once you have gathered all the image URL's you would like removed, fill out this form. 
What Next?
You will receive a confirmation email once we have deleted the image(s). You will need to submit the image URL's to Google to have them completely removed from their search results. Go to https://www.google.com/webmasters/tools/removals to request removal. 
Additional Information
Why are my Myspace photos and information in Google search?
Google will crawl a website to index image and page URL's updating those results to their search engine. Myspace has a high Google search rank so there's a possibility that your profile will show up in Google search if it's public.

Why is my deleted content still showing up in Google search?
Deleted content will still show in Google search because Google caches search results, which means that deleted content is still visible and searchable. Until Google updates its search index to reflect the recent change, links to the profile and images will still be available. Links to deleted content will return an invalid page error.